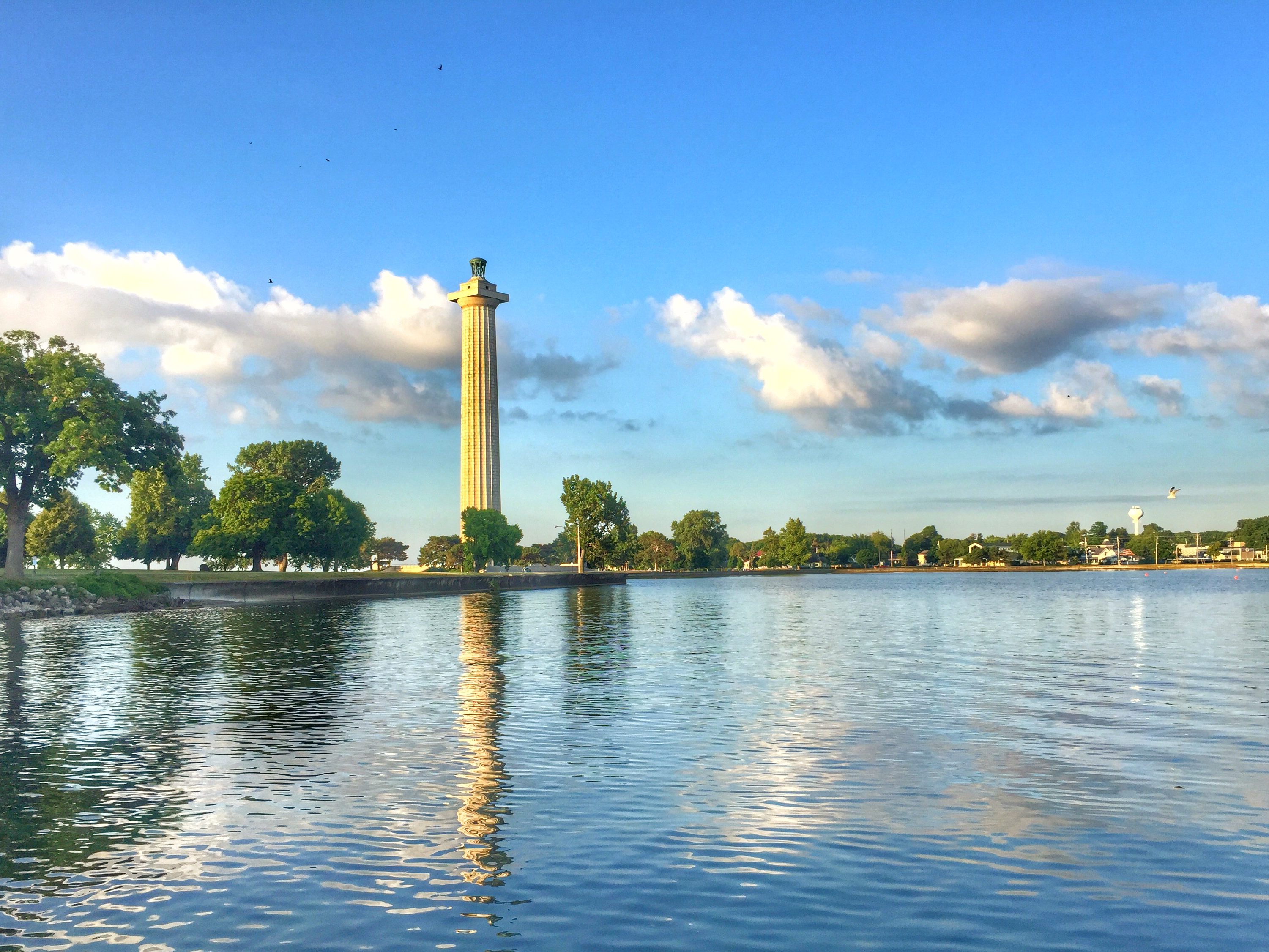 Welcome to the Put-in-Bay Gazette Online, your destination for everything news related to Put-in-Bay and the Bass Islands. Here you'll be able to explore our current issue online or take a look through our archives. You can also subscribe to the Put-in-Bay Gazette print edition, which is mailed to your mailbox every month.
Subscribe Online
To get the latest Put-in-Bay news at your fingertips.
TOP LEFT: The "Quad Squad" having a good time inside the Round House on Feb. 14th. TOP RIGHT: There was a mini cheerleading camp for ages 3-11 in February. Here are the The Put-in-Bay Panther Cubs after their performance at halftime of the Lady Panthers basketball game. BOTTOM LEFT: Having fun at a meeting of the upscale wine club on Feb. 6th are (front row: left to right) Dona Mitchell, Jason Cooper, Karen Wilhelm; and (back row: left to right) Dave McNew, Al Ashley, Kristine McNew, John Mitchell, Linda Rence, Rich Roberts, Marcia Ashley, Carol Roberts and Barb and Tom Cooper. Photographer Brian Molnar is not pictured. BOTTOM RIGHT: A big thank you goes out to Island Air Taxi for transporting two loads of Girl Scout cookies to the island. The island Girl Scouts, (left to right) Evelyn Wertenbach, Norah Blumensaadt,Vivian Scarpell, Brooklyn Williams, Braylee Dobos, and sisters Rachel Cooper and Meredith Cooper are seen here at the PIB Airport picking them up so they could be delivered around the island.
2023 Island Events Calendar
The busy 2023 tourist season is right around the bend, so here is a list and dates of some of the activities planned for this season. This is not a complete list. The Put-in-Bay Gazette will publish more information and details about island events as they get closer, but in the meantime, here are the dates you can mark in your calendar so you don't miss a single one.
March
17th - St. Patrick's Day
23rd - PIB School Talent Show
April
22nd - Mr. Ed's Pajama Party
23rd - 25th Annual Whiskey Light
23rd - Turn-on Celebration
28th - Arbor Day Celebration
30th - Draft Day 5K At Put-in-Bay
May
5th-6th - Spring Fling
6th - Kentucky Derby
7th -12th - Road Scholar Program
9th - Blessing of the Fleet
12th-14th - 12th Annual
12th-14th - Cornhole Tournament
13th - Island Wide Garage Sale
14th-19th - Road Scholar Program
19th-21st - Victoria Day Weekend
21st-26th - Road Scholar Program
26th-29th - Memorial Day Weekend
June
2nd - Middle Bass Volleyball Tournament
8th-11th - LakeFest Trop
8th-11th - Rock Music Festival
9th-10th - SBI Kayak Rendezvous
9th-11th - TYC Mills Cup Race
10th - 49th Annual Founder's Day
10th - Pooch Parade
11th - Benson Ford Shiphouse Tour
12th - (NEW) Put-in-Bay Pride
12th - Round House Bar Drag Show
17th - Ohio's Island Wine Festival
23rd-25th - Pyrate Fest XV
July
4th - Boom on the Bay Fireworks
8th-9th - PIB Soccer Cup Challenge
10th-14th - Nature Camp (ages 4-6)
14th-16th - Put-in-Bay Jeep Invasion
15th - Middle Bass Music Festival
16th-20th - I-LYA Junior Sail Regatta
17th-21st - Nature Camp (ages 7-10)
24th-28th - Nature Camp (ages 11-14)
26th-30th - I-LYA Powerboat Regatta
31st - Amphicar Days
August
1st - Amphicar Days
3rd - 17th Annual LEIHS Island Auction
4th-6th - I-LYA Sail Regatta
5th - Lake Erie Offshore Thunderfest*
5th - JF Walleyes 5K
5th-12th - Island Green Week
7th - Miller Ferry Stargazing Cruise
9th - Annual Nature Center Pig Roast
12th - Middle Bass Poker Kayak Day
12th - Put-in-Bay Volleyball Tournament
23rd-24th - Bash on the Bay
27th - Benson Ford Shiphouse Tours
September
1st - 4th - Labor Day Weekend
8th-10th - Historical Weekend / Bicen+10
9th - Art in the Park
9th-10th - Broncos on the Bay
10th -15th - Road Scholar Program
16th - Monarch Butterfly Tagging
16th - Halfway to St. Patty's Day Weekend
16th - Put-in-Bay Music Festival
16th - Put-in-Bay 5K Race
19th - 22nd - Put-in-Bay Road Races
23rd - Big Day at the Bay
23rd - New Year's Eve at the Bay
23rd - PIB Fire Department Clambake
23rd - Island Garage Sale / Sale Away Day
30th - (NEW) Island Hops & Vine Festival
October
6th-8th - Fall Ball
7th-8th - 30th Annual Island Oktoberfest
13th-14th - The Wake Weekend
14th - 2nd Annual Bay Day*
21st - Halloween at the Bay
22nd - 25th Annual Whiskey Light
22nd - Turn-off Celebration
22nd-27th - Road Scholar Program
See More From The Current Issue
Check out the current issue of the Put-in-Bay Gazette online.