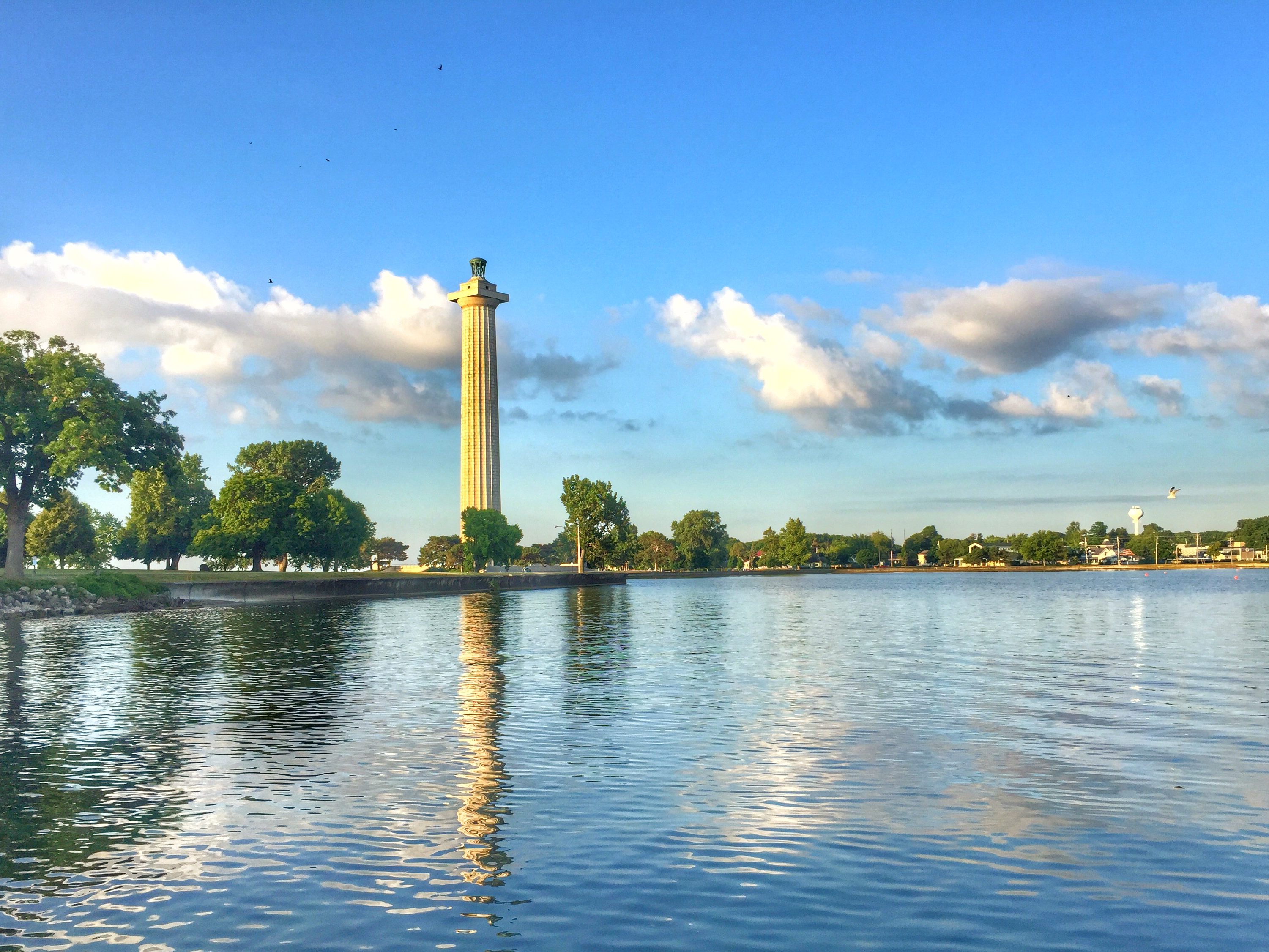 Welcome to the Put-in-Bay Gazette Online, your destination for everything news related to Put-in-Bay and the Bass Islands. Here you'll be able to explore our current issue online or take a look through our archives. You can also subscribe to the Put-in-Bay Gazette print edition, which is mailed to your mailbox every month.
Subscribe Online
To get the latest Put-in-Bay news at your fingertips.
With what seemed like a new event every few days, September certainly was a month to remember! Here are a just a few of the memories we captured during the month. TOP LEFT: The marching band from Anthony Wayne High School during the historical weekend parade. TOP CENTER: The crowd that gathered during the "last boat send off party" at the Lime Kiln Dock on Sept. 5th. TOP RIGHT: USS Lake Erie Captain Danielle Defant tossing a wreath at the Battle of Lake Erie site during the celebration on Sept. 10th. BOTTOM LEFT: Gwena Market christening the M/V Mary Ann Market on Sept. 25th. BOTTOM CENTER: Bob Kansa leading the pack during the Vintage Sports Car Road Races on Sept. 22nd (Photo courtesy of John Rees - www.PutInBayPhotos.com). BOTTOM RIGHT: Kat and Dave Holscott from Mitchell Rd. having fun at this year's Oktgoaterfest on Sept. 3rd, at Das Lokal, the Biergarten at the Goat.
Lake Erie Islands to Host GLIA Summit
After two years of pandemic delays the Great Lakes Islands Alliance finally convenes its summit hosted by Kelleys, Middle Bass, Pelee and South Bass Islands here in Put-in-Bay. Representatives from 14 great lakes islands from the US and Canada arrive Sunday, Oct. 2nd. We have people coming from the Island Institute and the Maine Island Coalition even from Florida!
The Summit kicks off with a reception and dinner at the Boathouse Bar Sunday. Then Monday there are two tours here on South Bass, one featuring infrastructure and the other on tourism. The Miller Ferry will take everyone to Middle Bass for lunch served by the Island Grind and we will listen to keynote speaker Dr. Jeffrey Reuter, former head of OSU Stone Lab. Then tours of Middle Bass State Park and a conservation tour led by Lisa Brohl. Monday night we will be at the Round House listening to island music performers. The public is invited to come and meet the other islanders.
Tuesday we head to Kelleys Island on the Jet-Express and are hosted by the KI School and KI Field Station. Tours of island businesses and unique geologic Glacial Grooves both morning and afternoon with lunch at the school and discussion led by KI Superintendent Todd Hanes. Then back to South Bass for a tour of OSU Stone Lab on Gibraltar.
Wednesday, we finally cross the border aboard the Jet-Express and land at the West Dock of Pelee Island. Pelee, known for it's viniculture, will host GLIA at the Pelee Island Winery. The morning session will focus on challenges and solutions. In the afternoon we tour the PI Birding Sanctuary and tour Vin Villa and more. It will be an incredible three days of discussion and adventure. To learn more check out our www.glialliance.org website and our facebook.com/glialliance too. Thanks to all our many dedicated volunteers and the many sponsors that made it possible.
Many thanks to our 2022 sponsors: Lake Superior ($2500+) - Hancock-Wood Community Trust Fund; Ottawa County Community Foundation; Ottawa County Improvement Corporation; the Corporation of the Township of Pelee and Round House Bar. Lake Huron ($1500+) - Beaver Island Airways; Kelleys Island Chamber of Commerce; Miller Boat Line; the Put-in-Bay Gazette; Shore's and Islands Ohio and Put-in-Bay Township Park District. Lake Michigan ($1000+) - Bob and Alana Anderson; The Boardwalk; Lake Erie Islands Conservancy; Mackinac Island Community Foundation; Middle Bass Dock Co. and The Ohio State University College of Food, Agricultural and Environmental Sciences. Lake Erie ($500+) - Lake Erie Foundation and Mark Advertising. Lake Ontario ($100+) - Beaver Island News; Great Lakes Publishing; Kelleys Island Landowners Association and Madeline Island Chamber of Commerce. We would also like to recognize the following Partners and Donors who provided in-kind donations and/or support GLIA through staffing, fiduciary and technical advisory roles and other critical capacities: Boathouse Bar & Grille; Charles Stewart Mott Foundation; Michigan Department of Environment, Great Lakes and Energy; Island Institute; Island Transportation; Kelleys Island Audubon Club; Put-in-Bay Chamber of Commerce and The Stewardship Network.
See More From The Current Issue
Check out the current issue of the Put-in-Bay Gazette online.